Aruba Maps
Below you will find two helpful Aruba Maps. We've decide to offer you these two maps to help you become more familiar with the island of Aruba.
The first map shows you the location of the island in the Caribbean. The island of Aruba is in the southern Caribbean, approximately 18 miles north off the coast of Venezuela.
The second of the Aruba maps shows you the location of each high rise resort and low rise resort as well as the location of the beaches.
Here is the map showing you the location of Aruba in the Caribbean.
View Larger Map
On the western and southern coasts of the island you will find beautiful soft white sandy beaches which are protected from the heavy ocean currents.
The northeastern coast of the island is rugged from being battered by winds and fierce ocean currents. Aruba is an island with a cactus-strewn landscape, rich with aloe plants, distinctive Divi-divi trees, colorful iguanas, exotic birds, various rock formations and caves, all unique to the island.
This second Aruba map is the Aruba Hotel map which shows you the location of the resorts and beaches.
Map of Hotels and Beaches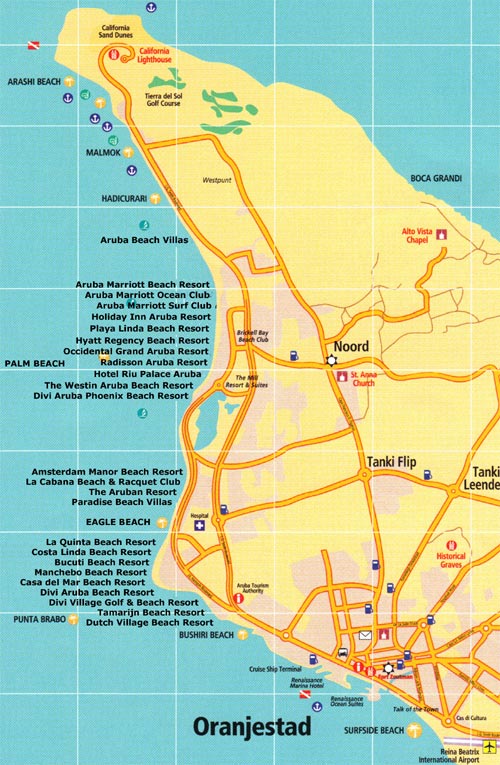 On the northwest side of Aruba you will find spectacular Palm Beach which is where all the high rise resorts are located:
The Ritz Carlton Aruba (opened 2013 north of the Marriott Resort)

The Marriott Resort & Stellaris Casino

The Marriott Aruba Ocean Club
The Marriott Aruba Surf Club
The Holiday Inn Sunspree Resort & Casino
Playa Linda Beach resort
Hyatt Regency Aruba Resort & Casino
Occidental Grand Aruba All Inclusive
Hilton Aruba Caribbean Resort & Casino (formerly the Radisson)

Riu Palace Aruba All Inclusive
Riu Palace Antillas All Inclusive Adults Only (formerly The Westin)

Divi Aruba Phoenix Beach Resort
Just south of Palm Beach is the beautiful Eagle Beach, Manchebo Beach and Druif Beach where you will find all the low rise resorts located:
Amsterdam Manor Beach Resort
La Cabana Beach & Racquet Club
Paradise Beach Villas
Costa Linda Beach Resort Aruba
Bucuti & Tara Beach Suites
Manchebo Beach Resort & Spa
Casa Del Mar Beach Resort
Divi Aruba All Inclusive
Divi Village Golf & Beach Resort Aruba
Divi Tamarijn Aruba All Inclusive
Divi Dutch Village Beach Resort Aruba
When we first started visiting the island of Aruba we were very confused as to where each resort and beach was located. It wasn't until we returned a few more times that the locations began to be more familiar. This was the map that we found to be very helpful, so we are passing it on to you.
Now that you can locate each resort , why not read about them by clicking on our Aruba Hotels page.
Click to also check out our All About Aruba page.
Copyright © [2016] ArubaHotelsBeaches.com. All Rights Reserved.