Aruba Wedding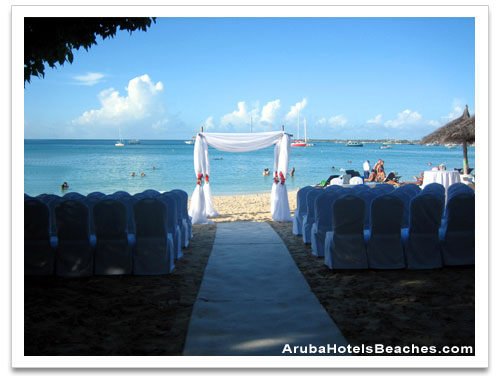 Aruba Wedding: While vacationing on the island of Aruba we have seen many couples tie the knot with an extraordinary Aruba wedding. The island is a perfect spot if you are looking to have an unforgettable destination wedding followed by an enchanting honeymoon.
This May, while on vacation in Aruba, we witnessed three weddings at The Westin Resort on Palm Beach. We watched as the photographer took pictures of the happy couple on the beach with the stunning Aruba sunset behind them. The reception was held poolside that evening and everyone appeared to be enjoying themselves. The following afternoon the bride told me how happy she was that they had chosen an Aruba wedding. She said, "Every detail was taken care of for us by The Westin Resort staff, so all we had to do was relax and enjoy the moment!"
Aruba resorts offer destination weddings and honeymoon packages all year round. After you decide which beach and which resort you would like to have your ceremony and reception at, contact the resort's Wedding Consultant or Wedding Planner. They will attend to every detail of the ceremony and reception for you to create a personalized dream wedding plan that will make all your wishes come true.
To have a stress free wedding they can arrange for just about anything. They will listen to your wishes and make expert suggestions about pre-wedding activities, venues, officiates, music, flowers, champagne, wedding cake, photographer, videographer, exquisite dining, etc. Many couples choose to have their wedding on the beach, at sea on a chartered Catamaran, or indoors in a magnificent banquet hall. Custom Kosher services are also available at certain resorts.

The cost varies from resort to resort but in most cases it should cost you less to have an island wedding. Number one reason is that all the guests you would've invited if you had a wedding in your hometown, would not be able to come to your island wedding due to many inconveniences and extra cost. It would be a smaller and more intimate affair.

Oh!..... the money we would've saved if only our three kids had wanted an island wedding!
Copyright © [2014] ArubaHotelsBeaches.com. All Rights Reserved.
---
Did you have a beautiful
Aruba Wedding?
Tell us the story of your special day? Share it!