Romance In Aruba
Romantic Things To Do In Aruba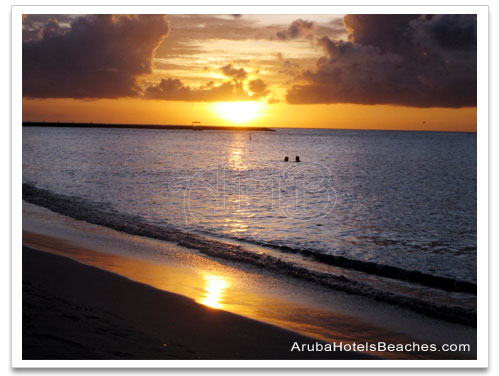 If you are looking for romance in Aruba, you will find it just about everywhere on this serene and yet exciting island.
There are so many romantic things to do in Aruba.
Walking Along The Beaches Of Aruba
Walking Along the Beaches of Aruba with that special someone beside you is a sensual experience. As you watch the sun's rays reflecting off the water like trillions of glistening diamonds, feel the warm trade winds and hear the sound of the surf, you can actually feel the magic of the island encompassing you.
You can't escape it, so don't even try! Romance in Aruba is everywhere!
---
Couples Massage
Couples Massage can be an amazing experience whether it's in the privacy of your own room, or on the beach in a thatched hut with the sound of the ocean and a warm breeze passing through. Aruba spas have a variety of relaxing massage packages for couples.
---
Private Picnic Or Private Dinner
Private Picnic or Private Dinner is also a great idea for a special occasion that you are celebrating. For romance in Aruba I suggest speaking with the concierge at your resort. They can assist you with whatever you have in mind to make your occasion memorable.
---
Private Sunset Dinner Sail
Private Sunset Dinner Sail will score you points with your special someone. There are a number of Aruba charters to take for a romantic sunset dinner sail for two! Most charters are for 10 to 40 people...but there are a few that can sail for a private special occasion for two. Of course it cost more for a private charter but most people say its well worth it!
For romance in Aruba we recommend Blue Melody & Black Pearl Sailing. A lovely couple will cook you a wonderful dinner, serve you wine, and give you privacy to enjoy the gorgeous sunset and starlight sky. They also offer a private package that includes snorkeling and a sunset dinner sail. Docked behind the Marriott Surf Club on Palm Beach. www.aruba-sailing.com
Other charters we recommend are The Tranquilo docked at the DePalm Pier on Palm Beach www.tranquiloaruba.com and The MorningStar departing from the Varadera Marina www.morningstararuba.com
---
Sunset Dinner On The Beach
Sunset Dinner on the Beach is romantic and less expensive than a private chartered sunset sail if you're on a budget.
There are wonderful restaurants on the beach that will serve dinner under the stars, with the glow of the moonlight and the flames of Tiki torches, while you listen to the sounds of the waves, and romantic music or strolling musicians playing. If it is a very windy day, I suggest changing your reservations to another night.
The Hyatt Regency, and the Marriott all have "on the beach" restaurants located on Palm Beach.
Footprints at The Hyatt Regency, and Simply Fish at The Marriott
On Eagle Beach there is Passions on the Beach restaurant. (The ambiance is sometimes better than the food.)
---
Dinner At A Romantic Restaurant
Dinner at a Romantic Restaurant like The Hyatt Regency is sure to score points with your loved one. It's an upscale restaurant with wonderful food and romantic ambiance. The Ruinas del Mar is a lovely restaurant with seating indoors, or outdoors (with a water fountain, black swans, moonlight and sounds of the ocean). Wonderful service, great food, and ambiance. A higher priced restaurant worth every penny for that special night.
---
Aruba Horseback Riding
Horseback Riding at Sunset along the beach can be a memorable romantic experience for any couple. We recommend The Goldmine Ranch or Rancho La Ponderosa.
---
California Lighthouse
California Lighthouse has been a favorite spot for sweethearts. Couples have found romance in Aruba by taking a blanket and a bottle of wine to the area to witness stunning Aruba sunsets.
---
Aruba Nightlife
Aruba Nightlife has much to offer in the romance department. There are Piano Bars, Martini Bars, Cocktail Lounges, and sexy Salsa dancing clubs.
---
Most Romantic Resorts In Aruba
Our choice for the most romantic resort on the island of Aruba is:

Bucuti and Tara Beach Suites located on beautiful Eagle Beach. It is a couples only resort located on a very quiet beach with a sophisticated and very stylish ambiance.
The Hyatt Regency is also a beautiful, romantic resort located on Palm Beach with a more tropical ambiance.
Check out many more resorts on the island by clicking our Aruba Hotels page.
Copyright © [2016] ArubaHotelsBeaches.com. All Rights Reserved.