Aruba Activities
Things To Do In Aruba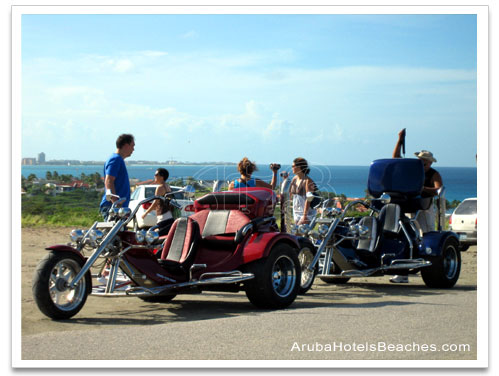 There are so many Aruba activities for you on this paradise island that you will have a difficult time choosing what to do first!
Once you are exposed to Aruba's pristine beaches and aquamarine waters you might just want to relax on a lounge chair and sunbath with a tropical drink in your hand.
You might get exhilarated by all the beach Aruba activities going on and decide to join in on the fun.
---
Water Activities
If swimming or beach volleyball is too mild for you, there are other things to do in Aruba like more adventurous water activities.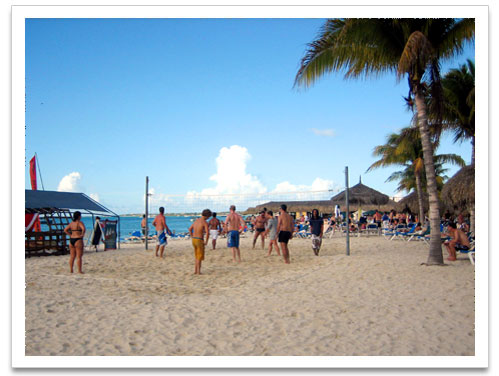 Choose from jet skiing, riding the banana boat, windsurfing, parasailing, kite boarding, sailing, or even kayaking.
Maybe you would prefer to charter a boat and try your skill at Aruba deep sea fishing, fly fishing, light tackle fishing or bottom fishing.
Aruba charters will also take you out to areas where you will find the best Aruba snorkeling and Aruba scuba diving locations.
On this paradise island there are catamarans, sailboats, and yachts to enjoy especially during the gorgeous Aruba sunsets.
Take a ride aboard the Discovery, which is the island's only Glass Bottom Boat.
For even more adventurous Aruba activities, you can explore the underwater world by taking a ride on the Sea World Explorer semi-submarine. You will go 5 feet below the surface to see hundreds of colorful tropical fish and coral formations at the WWll German shipwreck, Antilla, and Arashi Reef.
You may decide to have a real submarine experience by taking an exciting voyage to 130 feet below the sea on the Atlantis Submarine.
Take time away from your resort and take a ferry trip over to DePalm Island where the kids can have fun at the Blue Parrotfish Water Park.
For something totally different, try a new adventure called Sea Trek. De Palm will supply a specially designed diving helmet so you can tread the sea floor on a custom 375 foot walkway 20 feet below the surface. Even non swimmers and people who don't snorkel can feed colorful tropical fish, view a sunken airplane, and have their photograph taken while sitting at the underwater Sea Trek Café.
---
Land Activities

If perhaps you would rather stay on land, there are a multitude of Aruba activities for you to choose from. Try your hand at bowling, see a movie, enjoy a game of laser tag, or try your skill while having fun on THE FLOW RIDER ARUBA all at the Palm Beach Plaza Mall. While you are there have lunch at Casa Tua Mediterranee restaurant.
While you are on the island of Aruba go see the "liquid fireworks show" at the lovely Paseo Herencia Mall located in the Palm Beach area.
Maybe you're interested in bird watching, hiking, tennis, or even a paintball game adventure. You might want to go shopping or enjoy a great game of golf.
If you prefer to be on the move you could choose to go bicycle riding, rent a motorcycle, jeep, scooter, or even go horseback riding along the beach.
Maybe you would like to exercise your mind by reading a good book or visiting a museum.
Museums:
Archaeological Museum of Aruba
Aruban Model Trains Museum
Aruba Numismatic Museum
Historical Museum of Aruba
If you choose to try your luck than you might want to visit one of the many Aruba casinos.
On the Island of Aruba you can even take an exciting Helicopter tour.
---
Sightseeing and Tours

There are many interesting places to see on this island. You might want to rent a car or a four wheel drive vehicle and venture out on your own, or there are many Aruba tours to choose from.
Bubali Bird Sanctuary
Fontein Cave
Fort Zoutman
Guadirikiri Cave
Huliba Cave (Tunnel of Love)
Natural Pool
Whatever you decide to do on the island of Aruba, we know with all the Aruba activities to chose from you'll have loads of fun and interesting experiences to treasure. Don't forget to also enjoy the Aruba nightlife!
---
Of All The Aruba Activities On The Island, Which Is Your Favorite? Why?
Do you have a great story about this? Share it!
Your Aruba Activities Stories
Click on the links below to read some great Aruba Activities stories. They were all written by other visitors to this page.
Ideas for Cruisers Not rated yet
Hi, I'm Lise from Just Easy Recipes and I would like to share what we do on Aruba. We are cruise addicts LOL - we've been on 29 cruises so far as …
Copyright © [2016] ArubaHotelsBeaches.com. All Rights Reserved.