Kosher In Aruba
If you are looking to keep Kosher in Aruba, we hope this information will be of help to you and your family.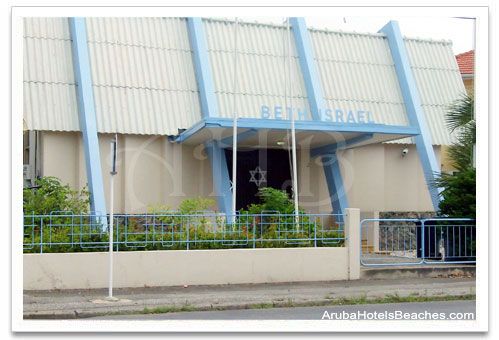 There are no kosher restaurants on the island of Aruba. Of course, you do have Baskin Robbins/Dunkin Donuts which you can find near the major resorts. The Hadicurari Restaurant, located on Palm Beach between the Marriott and the Holiday Inn, usually hosts a large group of kosher guests each year in January.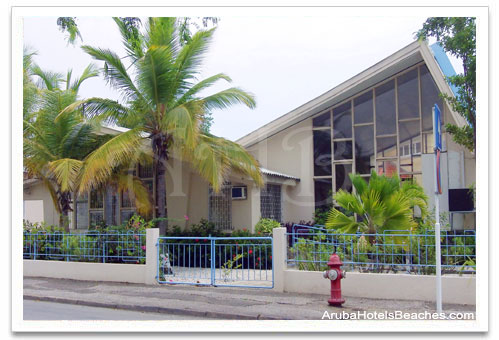 ---
Mark Reiman, the manager of the Hadicurari Restaurant, says:

"Because Aruba is a popular vacation spot in the month of January for Kosher guests, I have experience with the kosher cuisine. My restaurant is not a kosher one but I am able to prepare the products of the guests. My experience is that the most kosher guest likes to bring their own products. Because they want to be sure the products are 100% Kosher. If there are complete groups it will be possible to order the kosher products for them. In general I can do a lot of things for your kosher guests but I need to have the information before they arrive."
You can contact Mark Reiman via
E-mail: hadicurari@arubawineanddine.com
Website: www.hadicurari.com
---
Most vacationers either choose to eat vegetarian meals during their stay or they bring their meals from home. Many will rent a car and shop at the large supermarkets for Kosher products and prepare their own food.
This is especially true for those who have timeshares and return to the island yearly who want to keep kosher in Aruba. Kong Hing is one of the larger supermarkets on the island and carries major American products.
It is on L.G.Smith Blvd. in Oranjestad and is a 5 minute drive by car from the hotels. Most supermarkets have U and K products (everything in Aruba is imported). They also carry Hebrew National products.
We have made inquiries to a majority of the resorts about their services for those who would like to keep kosher in Aruba while on vacation. None of the resorts have kosher kitchens but some resorts will try to accommodate their guests if notified in advance.
There are a few resorts that will be able to import kosher dinners and others that will store, heat and deliver your food to your room, or to a restaurant in the hotel that you are staying at, all for a fee.
There are also a number of companies that will prepare kosher meals and ship them to your vacation destination. This will all add to the cost of your vacation. I suggest you get referrals from people you trust that have used various companies services. Shop around and compare costs.
The Beth Israel Synagogue is the only synagogue on the island of Aruba. There are no chabads. I have been in contact with Rabbi Mario Gurevich, MD, who has been kind enough to provide me with some of the information that I have shared with you. The synagogue has services every Friday evening @ 7:30pm. bethisrael-aruba.blogspot.com
Rabbi Mario Gurevich, MD
Israelitische Gemeente
Beth Israel Synagogue
Adriaan Lacle Boulevard #2
Oranjestad, Aruba Dutch Caribbean
Ph: (297)582 3272
Email: rabbi.aruba@gmail.com
2014:  Rabbi Gurevich no longer leads the Beth Israel Congregation. That honor goes to Rabbi Daniel Kripper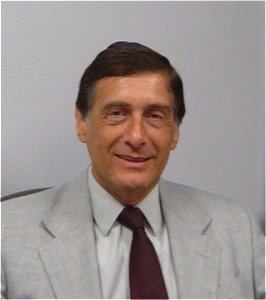 The Beth Israel Temple has welcomed their new Rabbi, Daniel Kripper to Aruba. He was ordained at the Latin American Rabbinical Seminary in Buenos Aires, Argentina.  He spent 3 years in Jerusalem at the Hebrew University of Jerusalem.  He has served as a spiritual leader in many communities including The Ari, The New Israelite Congregation in Uraguay, Temple Adath Shalom in Pittsburgh, PA, and Temple Beth Shalom in Palm Desert, CA.
Email: Rabbi@bethisraelaruba.com
---
*For up to date information and prices please check with your resort:
THE WESTIN RESORT, ARUBA: (CLOSED FEB. 2014)
Bas Olde Riekerink, the food and beverage manager, informed me that unfortunately the Westin does not have a kosher kitchen in the hotel and therefore does not offer any kosher meals. Most of their guests that require kosher food are recommended to bring their own pre packed foods, label the items per day and meal period. The hotel would then be able to store the pre packed foods in their kitchen coolers and heat and deliver the food to the guest's room for a fee. They will also offer to serve the food in their restaurants, for an additional fee. They suggest you label each meal by day and meal (i.e. Friday/Breakfast, Friday/Lunch and Friday/Dinner). Separate the dairy (Blue) from the meat (Red) and mark them accordingly. They find that this method will allow their guests to keep kosher in Aruba.
To be served your meals in your room you will be charged: $10 plus $3 delivery charge plus 17% service charge = Total $15.21 per person per meal.
To be served your meals in the hotel's restaurants you will be charged: $30 plus 17% service charge and 1.5% local tax= Total $35.63 per person per meal.
Contact: Bas.OldeRiekerink@westin.com
---
THE HYATT REGENCY ARUBA:
Coral Berkel, from the Guest Service Team, suggests guests who wish to keep Kosher on Aruba should bring their own food and the hotel will store the food for them at no charge. However, there is a charge of $27 per person per meal for heating the meal plus a service charge and a delivery charge. This will include a salad and a non-alcoholic beverage.
Contact: coral.berkel@hyatt.com
---
ARUBA MARRIOTT RESORT AND STELLARIS CASINO:
Matt Morris, from Marriott Internet Customer Care, tells us that the front desk at the Aruba Marriott Resort and Stellaris Casino informed him that this hotel does not have or serve kosher food.
RENAISSANCE ARUBA RESORT AND CASINO:
Matt Morris, from Marriott Internet Customer Care, informed us that the Renaissance Aruba Resort and Casino also does not have or serve kosher food but they will hold and prepare kosher food for their guests who wish to keep kosher in Aruba. You must call in advance. The cost to store, prepare, and deliver the kosher food is approximately $30 to $50 U.S. dollars per person per day.
Contact: Matt Morris internet.customer.care@marriott.com or Renaissance Aruba Resort and Casino directly.
Toll-free: 1-800-421-8188
---
BUCUTI BEACH RESORT & TARA SUITES:
Jill Blasé informed us that guests at the Bucuti Beach Resort & Tara Suites who wish to keep kosher in Aruba can bring their food with them and the resort will store the food for them.
Contact: Jill Blasé info@bucuti.com
---
AMSTERDAM MANOR BEACH RESORT ARUBA:
Michelle Harms-de Groot, sales and marketing manager at the Amsterdam Manor Beach Resort Aruba, informs us that they do not offer kosher food products at the resort.
Contact: Michelle Harms-de Groot
salesandmarketing@amsterdammanor.aw
---
MANCHEBO BEACH RESORT & SPA:
Jennifer van Vliet, from sales and marketing, informs us that the Manchebo Beach Resort & Spa does not offer kosher products at the resort. She suggested that I contact Mark Reiman at the Hadicurari Restaurant.

Contact: Jennifer@manchebo.com
---
Staying kosher in Aruba can be a bit of a challenge, but one that you can triumph over!
Check out all the things to do in Aruba on our sightseeing and activities pages.
Copyright © [2016] ArubaHotelsBeaches.com. All Rights Reserved.