Aruba Heli Tours
Enjoy a smooth, safe, memorable helicopter tour of Aruba!
Aruba Heli Tours will take you on an amazing photo op, so...
DO NOT FORGET YOUR CAMERA!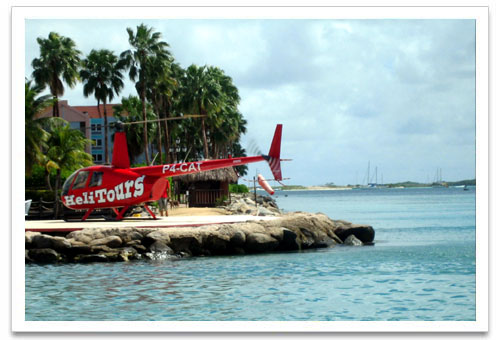 The Aruba Heli-Tours are based at the Seaport Helipad in downtown Oranjestad and is the only (privately owned) helicopter company on Aruba which provides scenic flights over the island.
The helicopters fly with 2 or 3 passengers on a first come, first served basis unless a reservation is made in advance. All tours fly with a minimum of 2 passengers.
Aruba Heli Tours will fly you in a Robinson R44 Helicopter piloted by highly trained and experienced professionals. Their number one priority and focus is on safety. They have a 100% safety record.
Gregor Milewski is a professional pilot born in Germany. He has a FAA Commercial Pilot and Flight Instructor License as well as a JAR-FCL Commercial Pilot License.
The helicopter is not only safe but comfortable with leather seats and is air conditioned. Headphones are used on board the helicopter so that passengers and pilot can communicate with each other easily during the flight.
The pilot knows the history of Aruba and will point out all the sites and landmarks on the island for great photo opportunities. You might even get some great dining tips!
Check out the tours that are offered, such as the Beach Tour, Island Tour, Fly & Dine Tour, Fly & Dine Deluxe Tour (which includes the Island Tour), Fly, Sail & Dine Tour, and tailor made Photo Flights.
Opening hours:
Monday to Saturday - 10am to sunset. Closed on Sunday. You choose the time for the tour.
The final flight of the day departs between 5:45 and 6:30pm depending on the time of year.
Cost:
Beach Tour- 15 minutes $200
Island Tour- 30 minutes $400
Fly & Dine Tour- $220
Fly & Dine Deluxe Tour includes Island Tour- $500
Fly, Sail & Dine Tour- $950
Aruba Heli Tours offer Gift Certificates for that special occasion, birthday, anniversary, etc.
Please check with Aruba Heli Tours in case of tour or price changes.
http://www.arubahelitours.com/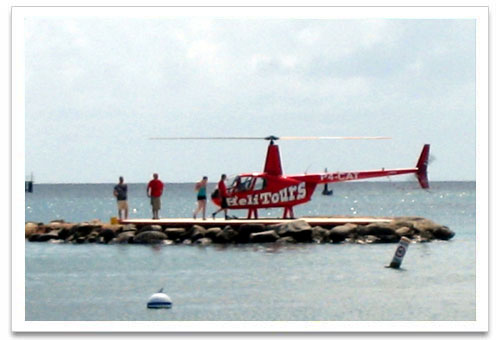 After enjoying a breathtaking scenic tour of the island, what will you do next?
For more things to do in Aruba check out our Atlantis Submarine page
Copyright © [2016] ArubaHotelsBeaches.com. All Rights Reserved.