Arikok National Park
Arikok National Park is a nature preserve that covers about 18% of Aruba's land mass and contains historical sites. The government of Aruba wants to maintain the unique landscape and the cultural and historical features of the park.
After getting a tad too much sun the day before, we decided to stay away from the beach during the morning and early afternoon hours by signing up for a half day Jeep Tour, which included driving through Arikok National Park.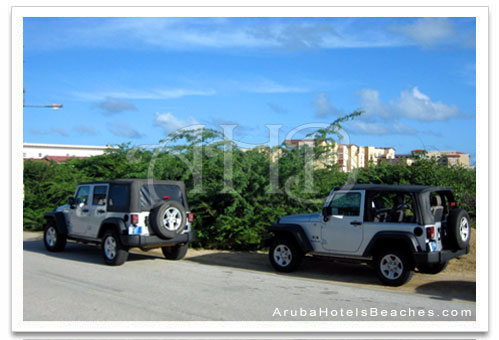 We were picked up at our hotel and brought to where the Aruba jeep tour was waiting for us. There were only three jeeps in our group and our tour guide led the way.
Unfortunately, our jeep would not start and we had to wait another 15 minutes before our replacement jeep showed up. Not a big problem since our tour guide kept us busy with interesting stories about the history of Aruba and Arikok National Park.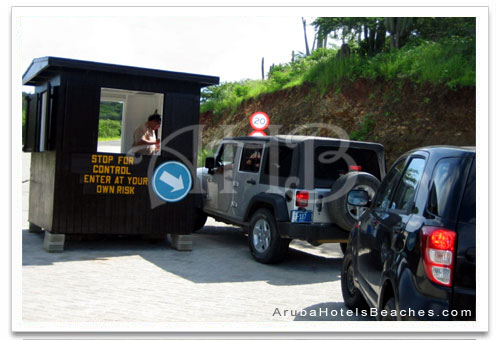 We first had to stop at the entrance gate so the tour guide could pay our entrance fee, which is already included in the tour package. Next we stopped at the Visitor's Center in Arikok National Park. Here you will learn about Aruba's flora, fauna, wildlife and cultural history. You'll also learn about Aruba's three geological formations: Aruba lava; quartz diorite, and limestone. They even have a snake exhibit which captivated my grandson.
They sell snacks and drinks there and of course they have a souvenir shop.
Once we got started we traveled through Arikok National Park by jeep on unpaved, winding and bumpy roads. Our son drove while my husband, myself, and our grandson CJ enjoyed the sights.
The rugged roads actually were fun and we laughed most of the time! The park has approximately 20 miles of rugged hiking trails. They have guided hiking tours by Arikok National Park rangers for both beginners and experienced hikers.
You will see an abundance of rare and exotic cacti, Aruba aloe vera plants, divi divi trees, eucalyptus trees, and colorful tropical flowers.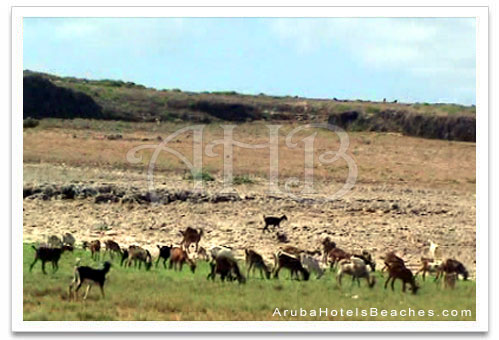 You will pass donkeys and goats grazing on the hills. You might see beautiful parakeets, doves, troupials, mockingbirds and hummingbirds along the way. The park is also home to Conego rabbits, rattlesnakes, Aruban burrowing owls, lizards (iguanas), and many species of birds.
The park also is where you will find the highest point on the island of Aruba, on Mount Jamanota at 620 feet.
We first stopped along the northeast coast to explore the Fontein Cave.
Inside the cave it was damp and wet due to the calcareous rich water that drips through the limestone to form stalagmites and stalactites. It can be slippery so be careful. It's also very dark and you will need a flashlight to explore this cave. We used my son's light from his phone!
It was intriguing to see the brownish red drawings left by the Amerindians. There was also graffiti on the walls and ceiling of the cave that were left by early European settlers.
Bats roost in this cave and the tours usually close early because the bats leave the cave early in the evening to find nectar and pollen. We saw two bats that day, that was two too many for me! But, my grandson was fascinated!
Next we found ourselves at the Guadirikiri Cave. This cave has two large chambers with openings in the top that allows sunlight to shine into the 98 foot long cave. There are hundreds of bats that nest in this tunnel but we didn't see any that day. They say the bats are quite harmless, but I was happy not to have seen them just the same.

The next cave is the Huliba Cave and Tunnel of Love, named for its heart shaped entrance. This cave is very dark, and is like a maze that requires some climbing, so I was happy to hear that it was closed that day.
Some other interesting sights you will see include the Ayo Rock Formation, and the Casibari Rock Formation, which are giant quartz diorite boulders of various shapes and sizes.
Miralamar is where you will find ruins of an old gold mining operation.
Masiduri is where you will find a typical Cunucu country farm house made out of mud and grass adobe.
The Natural Pool or conchi, is protected from rough sea by surrounding rocks. Many visitors chose to climb into the Natural Pool, but be very careful, it is very slippery on those wet rocks.
As you drive through the Park you notice how the landscape changes from hills with cacti to stone walls and limestone bluffs. Along the sea coast you'll find Boca Prins. Here is where there are very strong currents, swimming is not allowed at Boca Prins. It is also a famous sea turtle nesting area. Baby sea turtles hatch in the early Spring and wobble their way toward the sea.
As we drove out of the park we noticed all the wind turbines along the coast, the wild goats grazing on the land, and the beautiful beaches along the way.
Our next stop was Baby Beach!

My suggestion to you is to take a tour to Arikok National Park. Wear comfortable shoes and bring a flashlight and a camera. Wear sunscreen, a hat, and take water and snacks with you. If you decide to go on your own, do not use a rental car. Instead, rent a Jeep, Range Rover or a 4x4 because the roads can be rough. You don't want to get stuck with a flat tire and the sun beating down on you. You will also need a map because the roads do not have many signs along the way.
If you're looking for another sight to visit check out our California Lighthouse page.
Copyright © [2013] ArubaHotelsBeaches.com. All Rights Reserved.